Janus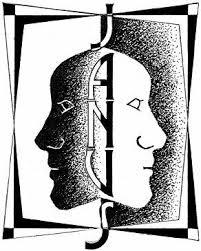 Janus is a Roman mythological entity that is represented as a two-faced doorway, signifying the beginning and the end. "
With a dual face, he can look upon the past towards the future"
explained by my bloc mate, MarkDespi at a Kas I class during freshman year. Ever since, he was referred to as Janus. It kinda stuck to him for years hehehe...
January, which came from
Janus,
is synonymous to
a new beginning
.
What makes this month special is that everyone starts the whole year with a fresh new feeling, as if everything just got reset. Thus, it became a common practice for some to state their own resolutions - a promise that they would do just to make good.
As for me, I don't need to compose my own resolution. All I really need are optimism and self-direction. After all, I should own this year, considering that I am expected to graduate (finally!) and seek for employment.
In a way, I am having a good time with my current status of still being a student. My original plans of being employed part-time may be reduced to being a Student Assistant, at least I still have control over my own time. With the extra time in hand, I have the opportunity to learn from different rackets I engage in. At the same time, I also have ample time to map out specific plans for my future. It's just a matter of taking my own time now.
I just hope anything good just keeps going, and going, and going, and going...
Labels: G23-2001
posted by ScIoN 10:45 AM